Black Granite Countertops – a Daring Touch of Sophistication to the Kitchen
Black granite countertops are making a big comeback into our kitchens. Glossy or matte, with more or less veining and splashes of different shades, black granite is always making a captivating appearance. This granite type is also providing a powerful performance. Strong and durable as any other granite, dark granite countertops will always make a powerful statement.
Some people may be afraid to use black granite countertops in their kitchens. Some think that black is too dark and that this type of granite can transform a kitchen into a gloomy and drab space. The truth is, if you choose any of the black granite colors, you will have made an excellent decision. Of course, you need to understand the space and make a plan in accordance with your specific, practical needs in the kitchen. Another important thing is to decide whether black kitchen countertops will complement the style you want to see and enjoy every day.
Black Granite Countertops Types and Looks
The color of black granite can range from almost absolute and completely black, with little striations, to a more wavering black color. These variables are actually secondary colors in dark granite and usually are gray, green, blue, white, etc. There is also a more textured appearance of black granite that provides this natural stone with ravishing interest and depth.
Black granites are mined mostly in South Africa, India, Australia, and Sweden.
The top choices of popular black granite colors are Black Pearl, Impala Black, Agatha Black, Absolute Black, Titanium, Black Galaxy, India Black, and Cambrian Black. You can see samples of some of these popular granite colors at Aqua's slab yard in Wayne, New Jersey.
Indian Black granite is dense and compact stone with rice-grain effect. Impala Black is from Africa but is sometimes categorized as gray granite type due to its color and grain structure.
Cambrian Black also has a rice-grain effect with an addition – a silvery reflection.
Agatha Black granite is one of the boldest black granites out there. The strong black is softened with gentle and graceful white veins flowing throughout this stone taken from the nature. When put in a kitchen, Agatha Black has a nice and calming effect on everyone around. Taken from the nature but still intact in all of its beauty, this granite will be a perfect addition to the kitchen space.
Black Pearl is also dazzling. This black granite countertop contains a semi-solid color tone, with elegant flecks of browns, greens, black, silver, gold, and grays. Available in a variety of different finishes, Black Pearl Granite can be used both inside and outside.
Absolute Black granite is basically pitch-black stone, simple and consistent in its elegant darkness. Both the color and the texture are immaculately consequent.
Uba Tuba Granite is quarried in Brazil and is one of the most favorite dark granite countertops. This granite is also considered deep green and often looks completely black. However, Uba Tuba granite countertops are sometimes speckled with gold, brown, white or turquoise blue shades. You will never find two same slabs of any granite stone, so make sure to find the one slab that is the best choice for your space.
Black Galaxy Granite originates from South India. It has a fine to medium grain with a bright sheen and gold flecks across the surface. The gold flecks are caused by high levels of bronzite. They can vary in size from large noticeable pieces that add a bit of drama to very small specks that just add a hint of gold. Due to its incredible durability, high moisture resistance, and little need for maintenance, it can even be used in flooring. However, Black Galaxy granite is most often used for countertops.
Black Granite Countertops Cons Debunked
Some people are afraid of using black granite surfaces in a kitchen. This fear comes mostly from the two presumptions:
-Dark counters will make the kitchen look too dark.
-It is hard to maintain and keep clean black counters.
These statements don't have to be the reality. The truth is:
– When combined with cabinetry and walls of lighter colors, not only that dark counters will make the space look dark. On the contrary, this combination will show that black countertops were the only logical element for this type of space.
– Breadcrumbs, salt, flour, and specs of dust can stand out on a black countertop. But countertops need to be regularly cleaned and maintained regardless their color or showing of dirt. There should be no difference in maintaining light and dark countertops. Also, black granite is particularly dense and much less likely to absorb stains than other materials. This makes black granite countertops even easier to maintain.
Black Granite Countertops Care and Maintenance – Labor of Love
Keeping black granite countertops clean is not difficult at all. People who have dark countertops in their kitchen know the value of this precious element and they don't mind the extra upkeep. However, the extra upkeep is actually the labor of love.
We all want to keep our kitchens clean because of our families' and our own sake. When in the kitchen, you actually want to spot the mess so you can clean it. No one wants dirty counters. Black granite will be with you on this.
Don't use lemon cleaners, vinegar, or ammonia to clean your black granite countertops. These will eat its surface regardless its toughness. In order to safely care for and maintain your black kitchen countertops, use liquid dishwasher soap and warm water. If you add a touch of alcohol, this will additionally kill germs.
Black Granite Countertops Price
When considering granite countertops for your kitchen, the price is, besides the looks, something that must be considered and taken into an account. Generally, granite countertops price for both material and installation can go roughly from about $100 per square foot, up to $250. However, be aware that this is a vast range. There are several factors that will influence the price you'll pay in the end for your black granite countertops. These are the grade of the material, the complexity of the job, and who is installing your black granite countertops. Keep in mind that choosing to work directly with the material supplier will cut your costs. The material and the installation will cost you less if you choose to cut out the middle man. When considering black counters, be aware that savings on black granite countertops price can be anywhere from 15% to 25% in the end.
Black Granite Countertops Perfect for Modern Kitchens
Some say that black granite countertops are made for modern and minimalistic kitchens. However, they fit equally great in traditional, cozy, and modern and sleek kitchens. Whether your cooking space is traditional, country, modern, minimalist, dramatic, airy, or industrial, dark countertops will simply add a luxurious feel to it. And, you won't be forced into a particular color scheme. It is so easy to create contrasts and choose other colors for your kitchen when you install black granite. When paired with white, beige or any other lighter cabinetry, black granite countertops will create an easy and logical contrast within a gorgeous modern environment.
Black granite color will work amazingly well in a traditional kitchen space. If your kitchen is rich with wood, rustic elements or has a colorful backsplash, black countertops will be the perfect addition to such style as it will add gravitas.
Black granite will perform amazingly well in any kitchen, on countertops or on the top of a kitchen island. Knight Architects from Princeton, NJ made this island using a leather finish absolute black granite.
Kitchens with black countertops will make your dishes and any elements or details that you displayed with an intention to accentuate, radiate and pop in the space.
Dark counters are suitable for all kitchens but especially for modern. Mixing and matching different kinds and colors of countertop materials is an enjoyable adventure. TrueLeaf Kitchens from Basking Ridge, NJ weren't afraid to experiment.
Black Granite Countertops with Maple Cabinets
When paired with timeless maple cabinets, black granite countertops create a subtle contrast.
Black granite countertops with maple cabinets – clear finished rail, shaker style. This kitchen is the perfect example of a trendy open concept kitchen design.
Black Granite Countertops with Backsplash
A marble backsplash with black granite countertops can make such a perfect pair. White and gray marble is one of the best types of backsplash for black countertops.
This lovely kitchen features stainless steel appliances, an undermount sink, shaker cabinets, and medium tone wood cabinets. Black granite countertops are paired with stone tile, multicolored backsplash.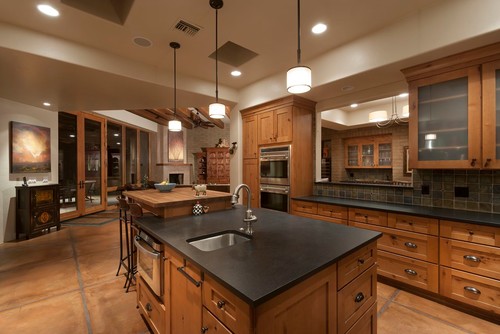 Black granite countertops with backsplash that is dark and with dark cabinets can look amazing. This lovely kitchen with black granite countertops offers you a hundred reasons to make this bold choice.
Black Granite Countertops with White Cabinets
Black granite countertops with white cabinets is a timeless combination. You just cannot go wrong with it because a good contrast is the most important design statement.
This is a lovely ivory white cabinets kitchen combined with honed black granite countertops.
Black granite kitchen countertops will pair extraordinary well with a classic or modern white kitchen design. The stone surface is eye-catching when combined with stark, crisp white kitchen cabinets and stainless steel appliances. Daring accents will only help in the overall kitchen look.
A kitchen can have more than two tones, and still look perfectly balanced. White cabinets, black countertops, and wood flooring with wooden chairs – an elegant yet warm, timeless design.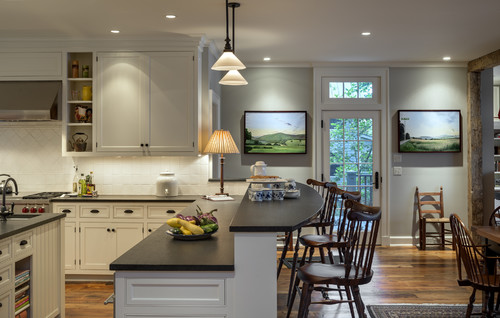 Again, black granite countertops with white cabinets create the perfect marriage. Subway tile backsplash with dark grout tastefully accentuates the contrast even more. Wall Color is Mindful Gray and the backsplash is Ivory Bone Tile.
Cosmic Black granite is one of the most popular dark granites today. Amazing streaks of white, silver and gold crystals run within this strong and beautiful stone.
You can use dark colors in a kitchen and escape the feeling of cramped and small, at the same time. Wood parquet flooring and oak shelving add warmth and the feeling of coziness. White metro tiles and stainless steel appliances reflect the light, creating a sense of openness and lightness.
Cool, sleek and completely modern, dark granite countertops can add a touch of sophistication to any kitchen area.
This is the kind of a dark kitchen that will leave you breathless! Kitchen design with honed black granite countertops and brass handless. Elegant, bold, rustic. A dream come true.
Black Granite Countertops – Choice for a Timeless Kitchen
Black granite countertops will always add a luxurious feel to any kitchen. Whether you have a traditional theme or you prefer a contemporary, modern look, black granite countertops will fit beautifully into any particular style. They are also an excellent option if one likes to change styles or colors or don't want to feel locked into a particular look. They look amazing with nearly any paint, cabinet style or flooring one chooses.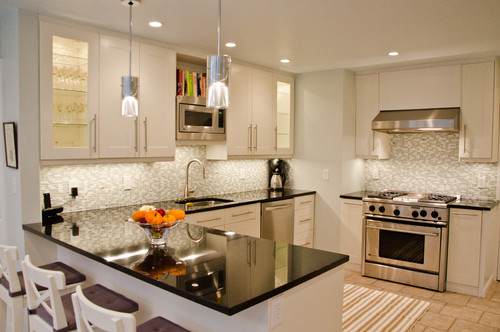 Black granite countertops have an almost universal appeal to buyers who are looking for great style and quality in the home they buy. They aren't just some trend that will go out of fashion. Black granite is timeless due to both its beauty and practicality. This makes it a selling point any time down the road. If you are ready to bring elegance into your kitchen, contact Aqua Kitchen and Bath Design Center in Wayne, New Jersey for a free estimate and advice.
Find more inspiration on the slider below.